Gerri Ryan, LM, CPM, FACCE, CLE, BDT (DONA)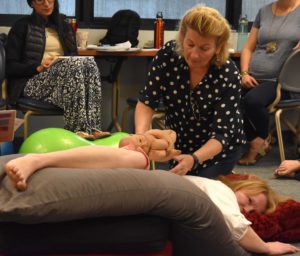 Gerri is an educator and practicing midwife with doula experience in hospital, home and birth center settings. She has been a Certified DONA International Doula Trainer since 2000. Although she primarily offers doula workshops locally in San Diego, she has traveled to train doulas in Orange County, California, and Okinawa, Japan.
Gerri is the founder of the San Diego Birth Network, a non-profit association of birth practitioners in San Diego County. She is also the co-founder of Nizhoni Institute of Midwifery where she served as the Executive Director through August of 2017. She remains a member of the adjunct faculty as well as a preceptor for midwifery students.
Mission
"I became a doula because I had already served as one 15 years prior to friends and family. I had assisted women whose husbands, partners were not there. I assisted teen moms who had no one to support them.  I had no idea what a doula was. In fact, there was not even a name for it at that time. I just knew it would make a difference to be at the birth with a woman. Some 15-20 years later I learned that there were studies proving what I had suspected, women attending other women in birth made a difference. Women were less scared. They felt more empowered. They were happier with the role their partner took and they believed their babies were more capable, cuter and smarter than the average baby."
Lisa Simpkins, IBCLC, CD (DONA), CBE, CLE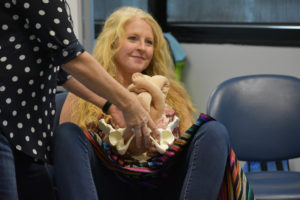 Lisa is an International Board Certified Lactation Consultant (IBLC), doula and childbirth educator. She is currently a faculty member at Nizhoni Institute of Midwifery where she teaches the Lactation Initiation and Regional Perinatal System Modules.
Lisa also teaches the 3-hour lactation class included in this workshop. "I enjoy teaching about breastfeeding as much as I enjoy assisting mothers while feeding their babies."
Mission
"My love of being with women at this special time in their lives was born from my own first birth experience. It is a key time in a woman's life and one where she often feels very vulnerable. When a woman is given evidence-based information, she can make decisions that can increase the likelihood of the type of outcome she wants. Information sharing/seeking, ownership of the birth process, and providing the resources necessary for the new family seemed the key to a more successful birth – even if it didn't go exactly as planned. So it was a natural fit for me to first become a Childbirth Educator, then Doula, then an IBCLC to complete the circle of care for a woman and her family."
Heather LeMaster, LM, CPM
Heather is an educator and practicing midwife with doula experience in hospital, home and birth center. She worked as a birth assistant for several years at Best Start Birth Center and was Clinical Education Leader at Nizhoni Institute of Midwifery focusing on midwifery student skill acquisition. She is currently focusing on her home birth private practice at San Diego County Midwives.
Mission
"I had grown up hearing and believing that birth was normal. I was amazed at the beauty and majesty of the birthing couple. I wanted to help make a change in the maternity system. I wanted every mother to be educated and empowered. I had the privilege of working with families that were choosing an institutional birth as well as a community birth. And that was all before I had my own amazing birth experience. I became a doula in 2003 and practiced as such until I received my Midwifery License in 2010."