Birth Doula Training Workshop
Your trainers: Gerri Ryan, BDT (DONA) and Lisa Simpkins, IBCLC
During this DONA approved Birth Doula Training you will learn
in-depth labor support strategies,
the role of the doula within the medical framework,
guidelines for pre- and post-natal contact with your clients.
We use texts, videos, supplementary literature, slide and role-play to build your theoretical knowledge and teach practical skills.  You and your classmates will learn from each other as you share your own birth-related experiences and develop your doula skills together.
This workshop also includes Lactation for Doulas, a breastfeeding course which fulfills a DONA International requirement for certification.
Guest speakers may include doulas from the community who come to share their thoughts and experiences in setting up a practice and working as a doula.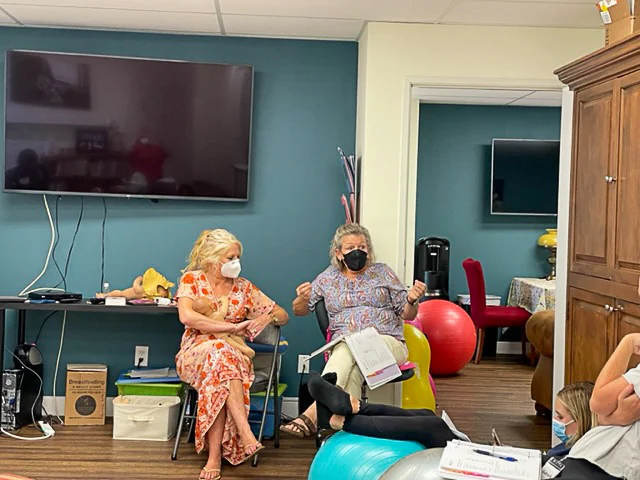 Workshop Dates
Our 3-day workshops are in-person.
Class size is 13-16 students.  Students and instructors wear masks at all times.
3-Day Workshop
Weekend classes are Friday 1:30 PM to 6:00 PM, Saturday and Sunday 8:00 AM to 5:00 PM.
Class Schedule
Friday 1:30 PM to 6:00 PM
Introductions; Experience at Birth; Group Goal Setting; The Benefits of Birth Doulas; the Doula research; Dona Codes & Ethics and certification; the process of certification and initial client contact.
Saturday and Sunday 8:00 AM to 5:00 PM
The course content focuses on the physical and psychological processes associated with giving birth and the significance of childbirth in women's lives. The special role of the doula in the prenatal period, during labor and delivery and during the postpartum period is covered in detail. Emphasis is placed on the importance of appropriate, culturally sensitive and ethical support.
Comfort measures are discussed and practiced with role-play and videos to enhance the learning process. Participants learn how to enable women and their partners to cope with both complicated and uncomplicated labors, including surgical birth. We have added a full breastfeeding portion, which covers DONA's requirement for a 3-hour lactation class.
Workshop Preparation
I. If you are not one of the following:
Midwife
Nurse with labor & deliver experience
A childbirth educator
Currently a doula but desiring certification
Or VERY familiar with process of birth
Then please consider taking our Introduction to Childbirth class OR completing a childbirth education series (student observers are FREE) at a birthing facility or with a private birth educator.
II. In addition, please read the latest editions of the following texts before class:
Pregnancy, Childbirth & the Newborn, Simkin
The Doula Book, Klaus, Kennell, Klaus
The Birth Partner, Simkin
Breastfeeding Course – Lactation for Doulas
Our breastfeeding course is included in your weekend doula training and fulfills DONA's requirement for a 3-hour lactation class.
Lactation for Doulas is designed to help the doula support their new families with breastfeeding.  We cover:
Anatomy and Physiology of Breastfeeding: Why it works, and understanding why early challenges occur despite the desire to breastfeed.
Latch/Position – including comfort for both mom and baby

Cue-based feeding
How do you know baby is getting enough?

Common Challenges in Breastfeeding:

Sore Nipples
Sleepy Baby, Fussy Baby
Engorgement
Mom/baby separation – need for pumping plan
Supply problems

Resources
Introduction to Childbirth Course
For those with NO knowledge of birth, and cannot observe a childbirth class series. This class is subject to cancellation if the minimum number of 2 students are not enrolled. This class is NOT required. The fee for this course is $150.
Registration Fee
The deadline for registration is Friday one week prior to the course. Walk-in registration (on a space-available basis) is possible for a fee.
The full Labor Course Registration fee is $475. You also have an option to make a $250 deposit with the balance due by the course. Please note that there is a $40 Late Fee for registrations made within 7 days prior to the course start date.
Gerri accepts payment via PayPal, Cash App, and check or money order payable to Gerri Ryan.  Please contact us if you would like to send a check/money order.
Cancellation Policy
We do not accept cancellations or issue refunds.
Students may defer their deposit for a one-time transfer toward a future doula training of your choice within 1 year of the previously booked training or you may designate a substitute to use your registration.
Student Survey Responses
Today, I liked . . .
"Interactive group talks, letting each person share thoughts."
"I liked how kind and open everyone in the room was. Also how I learned something different from everyone there."
"Getting to meet and hear everyone's experiences and get to just be around people who are just as excited and passionate about becoming a doula."
"I liked the step by step process laid out for the certification process.
"The first hand experiences Gerri and Lisa shared."
Share an ah-ha moment you had today or something you noted that you don't want to forget.
"I've been stressed about exactly what to say when difficult scenarios arise and the reflective listening discussion helped. I am really just helping the birthing person come up with her own solutions and I am not responsible for giving her the solution."
"I realized with our drawings that intuitively I've always wanted a natural, home birth. Society showed me different and my fears to birth a child were born. At 34 now I see (with that exercise) that my intuition led me here to lay those fears to rest for good!"
"Move, use a shawl or robozo – amazing. Words matter and make a difference."
"The more you respect a woman's choice during her labor, she can remain calm and in control, making labor more relaxing."
"I really loved learning more about breastfeeding and can't wait to learn more! Also, learning how to better communicate with the clients."
From the last two days, what session has had the biggest impact on you and your potential practice as doula?
"I loved walking through the techniques used in different stages of labor and also envisioning our perfect birth."
"Biggest impact was the business section and having Care Messer's input as well as the hands on activities. I felt like I was being well prepared for the career path."
"Watching you guys support/interact in model birth scenes! The care and level of support is amazing! It shows what a doula truly should be."
"The skin to skin section was extremely heartfelt. It was amazing to witness."
"Breastfeeding, even though I've done it, I learned new things."
Have A Question About Our Workshops?